How can I reuse or recycle waxed paper sliced bread wrapping?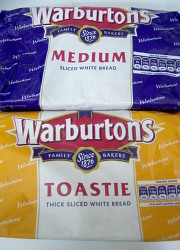 This one came to me in my sleep the other night – the waxed paper type wrapping you get on some loaves of sliced bread. I obsessed about it until morning so I wouldn't forget to write it down and let me tell you, I had some weird packaging related dreams that night.
ANYWAY, waxed paper bread packaging. We've had bread bags and the film stuff from fancy fresh supermarket baked bread but not the waxed paper option. It's not as common as it used to be but some brands still use it across the board.
The wrapping is not currently recyclable but carefully opened, it can be opened out into a decent size wipeable sheet. It can then be reused for it's original purpose again and again – wrapping around homemade bread or sandwiches – but has anyone done anything more involved with it?
From a reduce point of view, you could make you own packaging-free bread or source packaging-free bread from a local baker/independent store. If you have to rely on supermarket but also have decent plastic recycling facilities in your area, you might prefer to buy bread in easy-to-recycle plastic bags – that seems to call back to our discussion the other week, about whether or not you choose to buy things with more packaging or in this case packaging which on the face of it seems worse for the environment (paper versus plastic) but is actually easier to recycle.
Related Categories
items
,
kitchen
,
packaging
Search for other related items