How can I reuse or recycle shredded paper?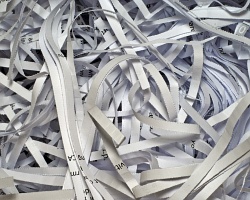 We've had an email from Jasmin:
I shred bank statements, receipts etc but our local authority doesn't accept shredded paper in the recycling bin. I don't have a garden so composting isn't easy either, does anyone have any other suggestions?
I've seen shredded paper used as packaging to protect breakable items in the post so that's one idea – but any more reusing or recycling suggestions? What do you do with it?
Best Suggestions
Reduce: Only shred documents that absolutely need shredding. Paper is must easier to reuse or recycle when it's in one piece, not dozens.
Reuse: Use it to protect fragile items in the post/storage. Some people use it instead of straw for small animal bedding. Turn it into papier mache creations or into paper kindling logs for a fire/stove (stuff it in toilet roll tubes to get the shape if you've not got a log maker).
Compost: Shredded paper can be added to compost heaps – it's great at adding bulk and is a useful "brown" if you have lots of greens (fresh garden clippings or most kitchen scraps) in there already. Alternately, dig it directly into your garden in the autumn (at manure time).
Recycle: Contact your local council to see if they will collect it for recycling – many don't collect it but some collect it with other paper and others with cardboard.
See the comments below for more suggestions and ideas
(Photo by winjohn)
Related Categories
household
,
items
,
office
,
paper & stationery
Search for other related items