How can I reuse or recycle … 'waxed' label sheets?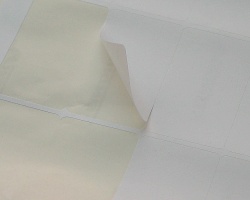 When he can be bothered, John writes a hideously geeky webcomic and we sell tshirts based on the "characters". To ease the whole packaging and posting process, I use laser-printed mailing labels and while I try to minimise waste by only printing in full sheets of 21 labels at a time (I always need return address stickers), there is always a sheet of A4 'waxed' paper left after I peel off the labels.
I doubt it's properly waxed paper but it's got a kinda non-stick coating on it so the labels peel off easily. My betting is that said 'wax' is more than likely to be plastic-based so potentially throws up some issues for recycling.
Does anyone know if these spent sheets can be recycled with normal printer paper? And either way, does anyone have any ideas for how these sheets could be re-used around the home or office? I also end up with loads of small 'waxed' sheets from customs and Airmails stickers so any suggestions for smaller sizes would be great too.
Related Categories
household
,
items
,
office
,
paper & stationery
Search for other related items