How can I recycle giant paper dog food sacks?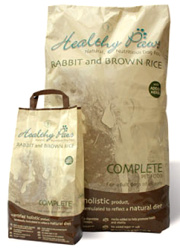 Our new furry food-processing unit is settling in well – she's curled up in a ball on our office sofa at the moment – and we've been enjoying the woodland walks with her now that she can go off lead and tire herself out.
As with the cats, I'm trying to keep the waste produced by her food packaging to a minimum – and also, like with the cats', it can mostly be recycled – cans, cardboard boxes and the giant paper sacks which are the focus of this post.
I bulk-bought the 15kg bags to save money and reduce packaging – but thought that, like with smaller bags of the same brand, the big bags would be plastic so could be reused as rubble sacks or similar in the garden. They turned out to be paper which is better in some ways – much easier to recycle – but less reusable. Or are they?
They're a double layer arrangement – brown paper on the inside, shiny printed paper on the outside. The brown paper layer smells somewhat of dry dog food so can't be reused for things I'd ordinarily reuse brown paper for (packaging items to post etc).
So any ideas?
Related Categories
household
,
items
,
packaging
,
paper & stationery
Search for other related items