How can I reuse or recycle expired sunscreen/sun lotion?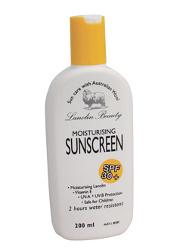 We've had an email from Karen:
I am new to your site and I really love it!

I do have a suggestion though, I had been cleaning up the bathroom and found old sunscreen lotion bottles, still full. I heard you can't use them more than a year, because they go bad and won't work any more. I have used them in the past longer than I was supposed to, but now they are definitely too old. Do you have any suggestions?
I didn't know that about sun lotion but searching around the web, a lot of people do seem to advise adhering to the product's expiry date. However, according to a dermatologist quoted on the Mayo Clinic website, it'll probably be good for three years or until it hits its expiry date – whichever happens sooner. Apparently after that, it loses its effectiveness.
I'm not sure what should be done with it after that – it's probably not moisturising enough to be used as a general body lotion. One argument would be to buy smaller quantities so you're not wasting as much – but as they're usually (always?) in plastic tubes or bottles, there would be a big knock-on plastic waste issue from doing that.
Any ideas? Anyone know of any sunscreen in non-plastic packaging?
Related Categories
bathroom
,
items
Search for other related items