Reusable sanitary pads giveaway!
We're having a series of women's health & sexual health themed posts this week in honour of International Women's Day today – with related green giveaways. Free stuff rocks and green free stuff rocks even harder!

The wonderful Rachael at Moon Times has given us some ace washable sanitary pads to give away.
The average woman uses more than 12,000 disposable sanitary products during her lifetime – so much waste! Washable pads are a very easy way to move away from disposable items – ideal for existing towel users, young girls just starting their periods or women who want the protection of a panty liner while using other sanitary products.
Moon Times pads lovingly handmade in the UK, from super-soft organic cotton so they won't feel like they're sawing your leg off like the plastic winged ones can do sometimes. Properly cared for, they can last for years and years – think of both the waste and cost saving!
Want to win these great pads? Just leave a message below before noon (GMT) on Friday 12th March and I'll use a random number generator to pick a winner. Just saying "hi!" or "pick me!" is fine – or tell us about your experiences with washable pads if you've already tried them.
Oh, and don't forget to include an email address in the email address field – it's hidden so won't appear on the website but means I can contact you if you win!
(Quick update just to say I'm happy to send them to anywhere.)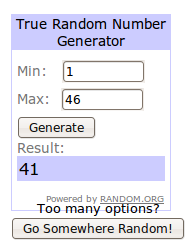 UPDATE – 12pm Friday 12th March 2010:
Entries are now closed and our lucky winner is comment 41 – congratulations Michele P! I'll be in touch soon to get your address details.
For the rest of you, don't forget you can buy your own washable pads from Moon Times – or if you're crafty, make your own by upcycling waste fabric from around the home.
Thanks for the great comments by everyone who entered and thanks again to Rachael at Moon Times for donating the pads! :)
Related Categories
bathroom
,
items
Search for other related items