How can I reuse or recycle (unused) sanitary towels & tampons?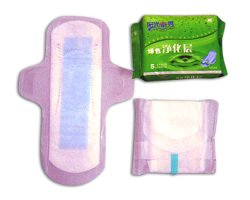 We've had an email from Estelle, asking us if we could promote the mooncup: an environmentally friendly alternative to sanitary towels & tampons. She says: "I've had one for three years and am really pleased not to be dumping 'feminine hygiene' products into the environment. I'm also happy not to be spending money on them either."
I've heard a lot about them from a number of different sources and the general consensus seems to be they're fantastic once you get the hang of them.
Estelle's email reminded me about the stash of towels & tampons I have in my bathroom cupboard. I stopped having periods about five years ago but used to buy-one-get-one-free quite a bit, so collected quite a stock before they became redundant. I thought about giving them away to friends but none of my friends have periods either for one reason or another (the most common reason being that they're mostly male).
So what can be done with them? Does anyone know of any charities that collect them for redistribution in developing countries or the like? What about reuses – surely their liquid-absorbing qualities must be good for something around the home?
Related Categories
bathroom
,
household
,
items
Search for other related items