How can I reuse or recycle a baby changing mat?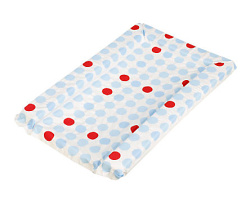 We've had an email from Jess:
What can I do with a baby changing mat made from foam?
Like with all baby stuff, my first thought is to pass it on if you can – they're usually used for such a short period of time that they tend to stay in pretty good condition. Pass it on through a baby group, a charity shop, Freecycle/Freegle or something like an NCT nearly new sale.
Aside from that, changing mats are just flat wipe-clean foam cushions so could be useful in lots of situations. If the covering is completely sealed & waterproof, a small child might prefer to sit on it in the bath rather than the hard surface of the bath itself. If the covering is punctured or just water resistant, it'd still be splash-proof, so you could fold in half and use it as a kneeling mat for you while bathing Junior, or it could be used as a bathmat when they get out. Similar, it would be great as a kneeling mat/cushion in the garden.
Any other suggestions?
Related Categories
baby
,
bathroom
,
items
Search for other related items