How can I reuse or recycle baby clothes?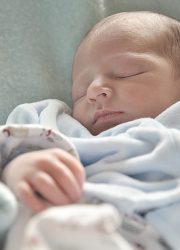 We've had an email from Gemma:
I'd like to make something out of my daughter Hayley's first babygrows and bibs but all the refashioning ideas I can find are from adult clothes. Have you got any suggestions?
Baby clothes probably don't lend themselves quite as well to keepsake projects as, say, a lace/satin wedding dress but I'm sure they can be put to other reuses. The first idea that springs to mind is a quilt for the baby – the cotton will be super soft so make a nice snuggly cover. They'll also make great reusable face cloths/wipes.
Aside from crafty solutions, if they're still in good condition and you're not too attached to them, of course you should pass them along someone else to use – either through a baby group, a charity shop or through something like the NCT's nearly new sales.
Any actual refashioning ideas? Or other ideas?
Related Categories
baby
,
clothes and fabric
,
items
Search for other related items