How can I reuse or recycle baby milk measuring scoops/spoons?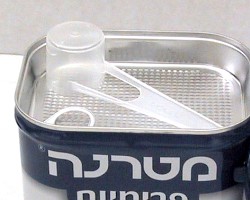 We've had an email from Jenni:
I have loads of little plastic SMA baby milk spoons from when my first child was a baby. I have now started making up bottles for my second child and realise the house will be full by the time we move on to cows milk. I can't bring myself to throw them out. Any ideas?
I'm not exactly an expert with any baby related but I think Jenni means the little measuring scoop things that come inside formula tubs. Like IKEA allen keys, it's a shame you get a new one with every repeat purchase when one or two is all you'll ever need (or if you've got your own measuring spoon set, you won't even need that) – but logistically it's easier for them to include them than having to send them out separately or whatever.
I guess you could keep one around the kitchen for future measuring purposes – but that's just one and Jenni sounds like she's got loads. So any other suggestions?
(On a related topic, we covered mixed material baby milk powder containers about a year ago.)
Related Categories
baby
,
household
,
items
,
kitchen
,
packaging
Search for other related items