How can I reuse or recycle really heavy rope?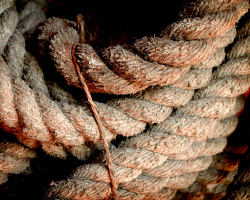 We've had an email from Lou:
There is a load of really heavy old rope in our garage, god knows where it came from. It's a bit mossy but seems in ok condition, we just don't know what to use it for because it's 4″ thick!
Unless you've got a big boat to tie to a quayside or something, I imagine you'd be best reusing it as a weight or a border in the garden – if you ever have to cover anything with plastic sheeting, it could be used stretched out or curled up to stop it blowing away or to stop lawns creeping into flower beds.
Any other ideas?
Related Categories
garden
,
items
Search for other related items