How can I reuse or recycle broken bricks?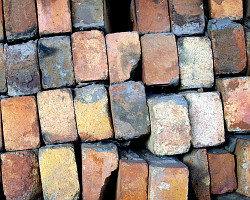 We've had an email from Valerie:
Recently, the uneven brick front steps to my house were knocked out in order to put in a sidewalk. Now I have single bricks, pieces of bricks, chips of bricks, and sections/blocks of several bricks mortared together. Almost all of the bricks still have mortar on them. Can anyone suggest a practical use for these?
We salvaged some bricks when a friend removed a 1970s style brick fireplace recently* and plan to use them to make a small (two-brick high) wall to hold back some shrubs off our path – the shrubs will hang over the wall so it doesn't really matter what the bricks look like. We also have a random old brick on top of our compost bin to stop the lid blowing away. I hear that they're also useful to put at the bottom of garden tubs – to stop them being as easily stolen/blown over.
But they're mostly just ideas for full bricks? What about bits of bricks and chips?
* "recently" is an utter lie. It was about two years ago and they've been sat in our garden since then. We're in a tidying the garden phase at the moment – hence the recycling bin thing I wanted ideas for the other week – though so maybe they'll get used soon…
(Photo by jazza)
Related Categories
garden
,
household
,
items
Search for other related items