How can I reuse or recycle … empty plastic compost/grow bags?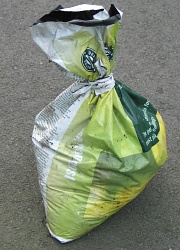 It's really starting to feel like spring here and I've been sorting out the garden in short bursts over the last week as well as repotting some houseplants for their shortly-to-commence mad growth spurt.
Our compost bin compost tends to have big chunks of material in it so I just dig it into the beds and use shop-bought compost for the houseplants. As I can only carry the small sacks of it back from the shops, I quickly end up with a number of the compost's plastic bags lying around the garden – they're quite a heavy yet flexible, opaque plastic and the inside is usually black. They're pretty strong but do tear if treated too roughly and/or pokily.
Over the last couple of years, I've used them to line hanging baskets (black-side out) and collected random plastic pots in them to stop said pots ending up blown all over the street but I'd love to hear it if anyone has any more ideas for reuses.
Related Categories
garden
,
items
,
packaging
Search for other related items