How can I reuse or recycle a wedding dress?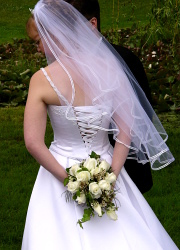 We've had another question from Ruti:
How could I recycle a wedding dress? I sewed it out of white satin and it is a skirt, bodice and separate train, also quite a bit of spare material and some small bits of netting (I'll keep the veil).

I don't really want to give it away, but I'm not going to wear it a second time!

So far I've thought of christening gown (if I ever had a girl), undies/nightdress and kiddy angel costumes. I'd kind of like to make some really frilly baby room accessories if I ever had a girl, but has anyone got any non-clothing suggestions?
If you're want to keep it – but not bothered about keeping it in one piece, I'm sure there are loads of lovely keepsake craft sections – the satin might make a nice cushion or as the lining of a jewellery box. Or to pull in a suggestion from last week's post on picture frames, you could use the net in an old frame to make a jewellery display for earrings and the like.
Any other suggestions?
(Photo by lumix2004)
Related Categories
clothes and fabric
,
items
Search for other related items