How can I clean a smelly vintage dress?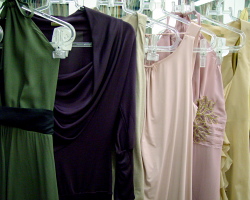 We've had an email from Su:
Although is not strictly a recycle or indeed repair, I nonetheless need help!

I bought a lovely dress in a second hand shop which I just know I would get loads of wear from if only I could remove the smell! It seems to have been washed in a very highly perfumed washing powder or maybe fabric conditioner. Unfortunately, I am very susceptible to smells, so at the moment there is no way I can wear. I have washed it countless times, it's been hung outside for weeks now and I have soaked it in vinegar, all to no avail, the smell does not even seem to be fading. It's made of a man made material.

Any suggestions?
We often get clothes with a "charity shop smell" (which isn't a bad smell, per se, just an overly-perfumed one) but one wash usually sorts them out, so I don't know what to suggest on this lingering aroma. I suspect the answer may be to use bicarb of soda since that's great at absorbing smells but I don't know how that would be applied… Anyone know?
Any other ideas?
Related Categories
clothes and fabric
,
items
,
repair this
Search for other related items