How can I pass on quality new clothing for reuse?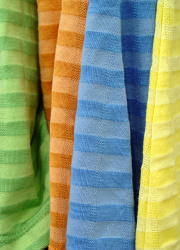 We talk a lot about upcycling, reusing or recycling old clothes and textiles but Louis wants help passing them on:
A couple of years ago our company produced some clothing (hooded sweatshirts and t-shirts for men and women).

We still have quite a substantial amount of this clothing, which we plan to donate to charity. Every item is brand new and is extremely good quality (100% combed cotton) and each item is individually wrapped in a plastic bag.

We were wondering if you have any contacts or links to legitimate clothing charities who may be interested in this clothing? We're keen for this clothing to be used by those in need (and not recycled)
A "substantial amount" would probably overwhelm a high street charity shop but it might be worth getting in contact with a local shop anyway – they might be able to put you in touch with someone higher up the chain who could distribute the items over a wider area.
What about more direct distribution to those in need? Does anyone know about any charities who accept large amount of clothing for giving out rather than resale? From what I've read, large international aid charities tend to prefer money to items (or items to be sold in their local shops to make money for sending overseas), because the items are rarely what they need in a given situation but does anyone know different?
Related Categories
clothes and fabric
,
items
Search for other related items