Upcycling clothing: how can I reuse or recycle a dress shirt?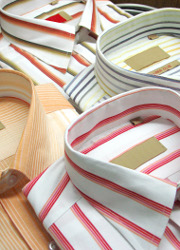 Continuing on our impromptu upcycling clothing week here at Recycle This, I was wondering what could be done with long-sleeved/dress shirts — we've already talked about recycling or reusing the ties, so why not the shirt as well?
The fabric is usually lighter than for t-shirts and the like, so they can lend themselves for different purposes. Hankies (like the ones I made from an old blouse a few years ago) seem an obvious idea – but you know, who doesn't need more hankies? Finer fabric is also good for lining handmade purses or bags etc.
With their full length sleeves, old shirts make good (albeit thin) clothes-guards while painting or crafting.
If you are reusing the fabric, don't forget to save the buttons – for mending and making purposes.
Any other ideas?
Related Categories
clothes and fabric
,
items
Search for other related items