How can I make Christmas decorations reusing and recycling stuff?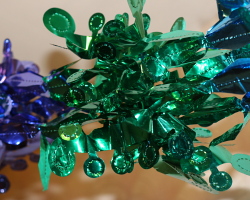 So Christmas is just over a week away and houses up and down the land are being covered in fairy lights, tinsel and breaking-and-entering Santas trying to climb in bedroom windows (is that just a trend on my estate? Is it really just a creative burglar who gets around a lot?).
But what if you prefer decorations that aren't shop bought? I'm sure all you clever, crafty people have a billion ideas to make pretty Christmas things – and I'm sure a lot of them will reuse or recycle random bits and bobs which would otherwise go in the bin.
I remember making paperchains out of glossy colour magazines as a kid but if we decorate our house these days, I suspect I'd prefer something a little less … paperchain-y.
I like the idea of little festive candle lanterns made from old tin cans, Precarious Tomato's prescription pill bottle wreath and Alison Bailey Smith's gorgeous scrap wire baubles. I seem to recall someone making baubles out of old-style lightbulbs too but can't remember the details… And our friend Deb has made a Christmas tree out of cardboard (the last time we had a tree, a good few years ago now, we had a cardboard one too – but Deb's looks far more sturdy than ours.)
Have you seen any good upcycling ideas? What have you reused to make recycled Christmas decorations?
Related Categories
art & crafts using recycled stuff
,
Christmas
,
reverse this
Search for other related items