Recycled Christmas Decorations: our favourite ideas for 2011
Who wants generic shop-bought Christmas decorations when homemade ones are so much nicer, cheaper and better for the environment? ;)
Our 2010 round-up of our favourite ideas for making upcycled/recycled Christmas decorations has been very popular this year and I hope it's provided lots of people with lots of inspiration – but if you've still got a little space to fill before the weekend, here are some more last minute ideas: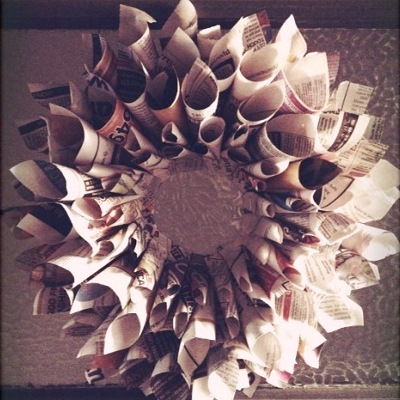 Paper wreaths have been very popular over the last couple of years but I love this one from EcoEmpire because, aside from staples, it's entirely made from reusing household waste – newspaper, cereal boxes and a little scrap of ribbon (Kat suggests the loops from clothes – I've got a drawer full of those!)
Sticking with paper crafts, I also love these paper ball ornaments – either as individual baubles or strung together into a garland. I also love the idea of using foil packaging to make silver or otherwise shiny ones.
These letter ornaments, decorated with scraps from old sweaters, would also work well on their own or as part of a garland spelling out a holiday greeting/special word. "Merry Christmas" if you've got a lot of scraps, "joy" if you haven't ;)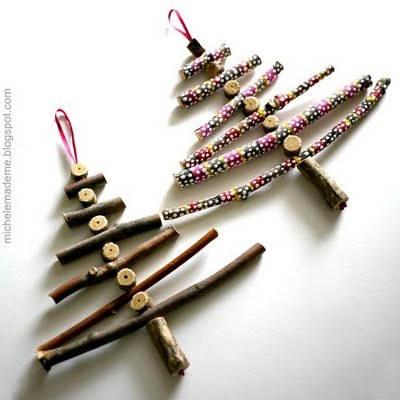 If you prefer your decorations a little more natural, these mini Christmas trees made from twigs are just fab – a simple idea but really nicely executed.
The Crafty Green Poet also reminded me that you don't have to just use special Christmas ornaments on your tree – any ornaments or little items that don't usually see the light of day can be hung up on there – even earrings on smaller trees for a little sparkle/bead-y delight.
Finally, Deb/Urbanwide sent me this fun Nativity scene idea: the whole Nativity crew painted on champagne corks. Perfect if little ones want to play with the scene – although if you want one for this year, you'll have to get working on drinking all the champagne ASAP ;) (A slightly healthier alternative – but one that needs nearly as much forethought – is to use Actimel bottles for the bodies instead.)
Anyone else got any fun recycled Christmas decoration makes or discoveries to share?
(Photos © EcoEmpire & MicheleMadeMe respectively)
Related Categories
art & crafts using recycled stuff
,
Christmas
,
household
Search for other related items