How can I reuse or recycle broken Christmas tree lights?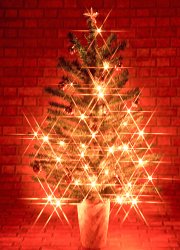 We've had an email from Megan McDermott, saying:
I just put my Christmas tree up this week and was disappointed to find that three strands of lights aren't working. I hate to throw them in out, but what can I do with them?
It's early in the festive season but I suspect a number of people will be hitting the same snag around about now. I've seen Christmas tree lights used in all sorts of non-festive places – but they've all been working.
Given the amount of little bulbs and wire involved, it's probably one of those things that is, unfortunately, cheaper to replace than to fix these days – but has anyone got any trouble-shooting tips to get them working again?
But if that doesn't fix the problem, what other options are there to reuse them either in all or in parts?
(Photo by singhajay)
Related Categories
Christmas
,
household
,
items
,
technology
Search for other related items