How can I reuse or recycle kitty litter containers?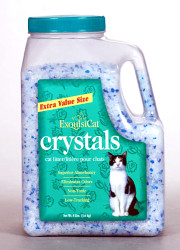 We've had an email from Ashley Sue, asking:
What is a good sustainable use of 40 lb plastic empty kitty litter containers? I've got a bunch of them. not recyclable in our area :(
We get our cat litter in paper sacks so I'm not quite sure whether Ashley Sue means bucket-like tubs like this one or jug-style containers like these. The link on the former already give one potential re-use — for growing veg — and we've got a few of the latter type that originally held dry cat food which we use for other cat-related purposes – either mixing up two flavours of dry cat food to dilute one they don't particularly like, for holding litter when the paper bag splits or if a bulk-bought sack of food/litter needs decanting so the smaller member of our household (ie me) can lift it. I'm sure a well-washed out litter jug could be used for all these things too.
Any other (cat or non-cat) suggestions though?
(Oh, and if you're interested, we've already covered recycling/composting the litter itself. Also, can I just say how delighted I am that it's spring and the cats are leaving the house for the first time in months – it's been a long, long poopy winter.)
Related Categories
household
,
items
,
packaging
Search for other related items