How can I reuse or recycle styrofoam containers?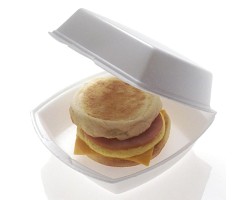 We've had an email from Renee, who left just about a billion re-use suggestions around the site a couple of weeks ago (thanks Renee!):
How can I reuse Styrofoam cuts/containers and things? I don't buy anything that comes with this junk but find it by the road and on the beach all of the time. I'd like to re-use it in some useful way.
I'm presuming that Renee means the stuff like type of "clam-shell" styrofoam containers that most major chain fast-food restaurants stopped using a few years ago (…I think – correct me if I'm wrong) but which are still used by a lot of independent take-out food places.
While researching this post, I found there is a lot of more eco-friendly starch/sugar-based clam-shell packaging around these days – but based on my experiences with take-out places around here at least, the nasty plastic stuff is still pretty common. So any re-use ideas?
(On a related subject, we've already covered flat-ish meat/veg trays & shaped fruit ones that are usually made of styrofoam or something similar, and other foam-like packing materials.)
(Photo by, coincidentally, another Renee, Renee Comet)
Related Categories
items
,
packaging
Search for other related items