How can I reuse or recycle … plastic take-out containers?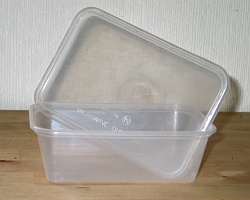 Because we so often get caught up doing other things (and/or are lazy), John and I have take-out about once a week. Sometimes this is pizza, as I've mentioned before, but recently we discovered a new Chinese place open up nearby and we have been partaking in its various offerings.
Long gone are the days of foil tubs and cardboard tops – everyone in the take-out world seems to use microwaveable plastic lidded containers these days. While I have worries about storing food in plastic for any length of time, we kept the first few rounds of tubs to use for leftovers from our own culinary exploits and the like. But now we have more tubs & lids than we know what to do with – we have more than enough for use in the kitchen and around the house – and storage is getting to be a problem.
We can't doorstep-recycle them because they're Polypropylene (type 5) and our council only recycles types 1, 2 and 4 (as seems standard) – and I don't know anywhere else that recycles them. I doubt the take-out places could take them back for their re-use for hygiene reasons – and ditto anywhere else that might find them useful but lacks sterilising equipment.
So any suggestions? Recycling ideas or uses outside the normal ones around the home (food tubs in the kitchen; nuts/bolts/screws in the cellar; under plants..)?
Related Categories
items
,
kitchen
,
packaging
Search for other related items