How can I reuse or recycle a dead laptop?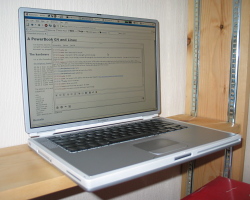 My beloved laptop died last week. It's actually been dying for about a year but my patience/unwillingness to buy a new one combined with a few last ditch life-extending efforts by John meant it only shuffled off the.. electro-magnetic coil last week.
John bought it five years ago for work and (ab)used it for a couple of years, then I inherited it and have used it as my main PC ever since – and given I work on it all day, every day, it's really quite impressive that it's lasted this long.
But now we've decided to finally lay it to rest. The power supply (which has been replaced once before) and batteries are utterly shot, meaning it frequently lost power when I was in the middle of my work – and not just once but over and over again until the planets align and it decided it'd accept/store power again. The screen's casing is physically damaged after an accident a few years ago and something either to do with that or the graphics card meant there were constantly glitches appearing and disappearing from the screen. The airport (wireless) hasn't worked for years and last time we opened it up it seemed to have melted (??!) and the paint has worn off the edges of the keyboard bit, leaving electric-shock inflicting bare metal. I was happy to live with the latter things – using a wire instead of wireless, wearing a jumper to prevent the shocks – but the power thing became unworkable. There is only so many times something can turn on then off then on then off then on then off… before you want to throw it through a window.
We're going to see if anyone in our local geeky world can use it for its non-broken parts but if it's not any use to them, I don't know what else to do with it. Our usual computer recycling place refurbishes old PCs but I suspect, given this is an Apple and so uses all sorts of proprietary Apple connectors and whatnot, it'll be too much hassle/expense to fix it.
Any suggestions though?
(Photo by John from when it was shiny and (quite) new, and we didn't have piles of crap on our shelves)
(Also apologies for the couple of hours downtime that we had yesterday – our server was being moved or something.)
Related Categories
items
,
office
,
technology
Search for other related items