How can I reuse or recycle slightly past-it apples?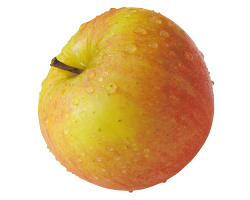 We've had an email from Katie Beedham, saying:
I found some old apples at the back of my fridge today. They haven't gone off, but they're not crunchy enough to eat raw. I was wondering if anyone had any ideas what I can use slightly soft apples for?
My immediate thought was "apple pie?" but I know nothing of the way of the fruit since I don't partake and for all I know you might need really fresh apples for that.
As for non-culinary uses, if you have oily skin, you can use apples to make a facemask: most guides, like this one suggest mixing some grated apple with honey, and maybe a little oatmeal for a bit of exfoliation, then slapping it on your face for ten minutes or so, then rinse it off with cool water.
I also have a feeling they're useful for making some sort of metal sparkly clean but the computer manufacturer is hogging all searches – anyone know if they can be used for household cleaning?
And what about other suggestions?
(Photo by darotyka)
Related Categories
food
,
items
Search for other related items