How can I "recycle" a dead pet?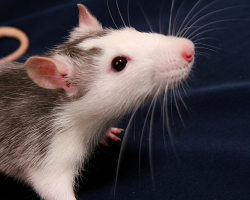 We've had an email from "Pondering of Bristol", saying:
Sorry to be a bit morbid but my daughter's pet rat, Ellen, is on the way out and we are wondering what to do with her once the inevitable happens? We don't have a big garden, just pots, so can't really bury her. Should we put her in the compost?
I wouldn't put a dead animal in an open compost heap for the same reason I would steer clear of composting any animal products – it may attract other unwanted vermin or insects to the heap while it's decomposing. People using sealed composting systems are usually more happy to do this type of thing though.
We've always been able to bury our ex-cats in their favourite spot in the garden so I haven't really thought about alternatives – does anyone else know about this sort of thing?
(Photo by puellakas)
Related Categories
household
,
items
Search for other related items