How can I reuse or recycle small pieces of fabric – that isn't patchwork blankets or tote bags?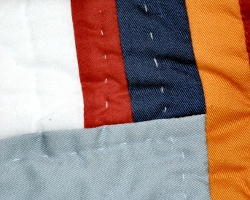 Last week, I posed a question from Annetta about what to reuse or recycle to make a bird bath – thanks for all the great suggestions. Annetta asked another question – about fabric:
Any other good ideas for using fabric. I have tons of it and I am getting bored making blankets and tote bags. I want to make something useful.
I asked her to clarify what type of fabric – old bedding, old clothes, old yardage/fat quarters etc – and she added: "The fabric in question is in small bits. I have so much fabric in small pieces I just don't know how to use it all, and I don't want to throw it away."
While I'd challenge the insinuation that blankets & tote bags aren't useful, I do know what she means – we currently have more than enough shopping bags and throw blankets (even with a messy/often soggy dog) so new ideas are always welcome.
I've seen some lovely pieces of patchwork used for revamping old chairs etc recently – painted woodwork and patchwork seats – and also patchwork cushions, but I'd imagine the latter would quickly become the next blanket/tote bag — a couple is all you need.
Individual little bits of fabric could be used for appliqué for upcycling/revamping old clothes, or used for creative repairing. Bunting is also super popular at the moment as an all-year-round decoration as well as at party time.
Involving less sewing, jersey/t-shirt material can become reusable washcloths or wipes to replace toilet paper. I've also seen lots of fabric wrapped bangles and necklaces recently. And don't forget rag rugs – I recently saw a cool way to make round ones using a hula hoop but if the fabric pieces aren't big enough for that, a knotted one might work better.
Any more recycling ideas?
Related Categories
art & crafts using recycled stuff
,
clothes and fabric
,
items
Search for other related items