How can I reuse or recycle … old scrubbing brushes?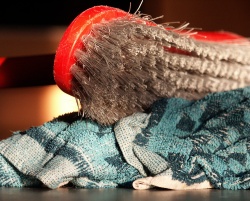 As I've said before, we're not cleaning obsessives in this house but when we do clean, we're the cleaning hardcore.
Cleaning sessions usually start with the hunt for a scrubbing brush, then follow with the application of gallons of elbow grease (we bulk-buy, it's cheaper), then end with an exclamation of "oh! I forgot it was that colour!"
We've got a couple of scrubbing brushes lurking under sinks at the moment, all with the bristles somewhat bent out, tired from all the exertion. They're still quite clean though (since we tended to use a lot of water and soap with the elbow grease) so it seems a shame to through them out but their effectiveness as scrubbing brush seems to have lessened somewhat.
Any suggestions about what we can do with them instead? Or how to bring them back to life?
(Photo by sparkules)
Related Categories
household
,
items
Search for other related items