How can I reuse or recycle … shower curtains?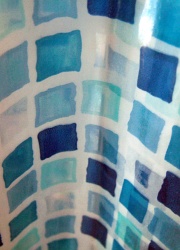 We had shower curtain rings a few weeks ago but what about the curtains themselves?
Our shower curtain is getting a bit passed it – it's torn at some of the ring points, there is something that looks like hair dye along the bottom (even though neither of us dye our hair but whatever, it won't come off) and mildew has well and truly taken over. We clean off the black mould regularly but the times between scrubbing it clean seems to be getting shorter and shorter – we think the slightly rough fabric is to blame.
Anyway, we're going to look out for a new one – or get one of those solid screen things since they're easier to clean. But what can we do with the old one?
Especially, any ideas that can make use of the fact most curtains have a fun or pretty pattern on them?
(Photo by danzo08)
Related Categories
bathroom
,
household
,
items
Search for other related items