How can I reuse or recycle … old toothbrushes?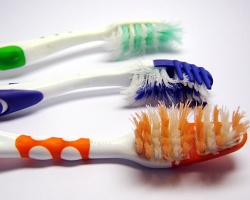 And from toothpaste tubes to the toothbrushes themselves.
John has a habit of splaying the bristles all over the place in a single use so we go through quite a few. We've got a small collection of them in the bathroom cleaning products cupboard with the idea that we'll use them for cleaning around taps (something that rarely happens and when it does, a cloth usually suffices) and they occasionally get used to cleaning the cat hair/food/assorted beverages out of computer keyboards – but has anyone got any other suggestions from how we can use up the stash?
They're mostly bog-standard manual toothbrushes but we've got a few to go on the top of an electric toothbrush from John's short dalliance with power-assisted cleaning so suggestions for both the long and short would be appreciated.
(Photo by kadrip55)
Related Categories
bathroom
,
items
Search for other related items