How can I reuse or recycle washing up brushes?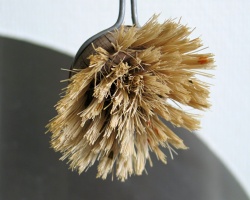 Even though we use them in addition to sponge and cloths, we seem to go through washing up brushes pretty quickly, usually because the bristles all flatten out rendering them somewhat ineffectual at reaching hard to reach bottoms of glasses etc.
We keep a couple around for "dirty" cleaning jobs, such as de-muddifying trainers, where the flattened bristles do enough but what can we do with the others?
And is there a super-invincible kind of brush that lasts longer, thus reducing our constant need to replace them?
(Photo by laeste)
Related Categories
household
,
items
,
kitchen
Search for other related items