What's greener … to buy local non-organic veg or ship in organic veg from around the world?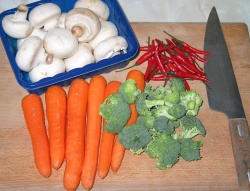 Most of the vegetable stalls at our local farmers' market don't advertise themselves as organic (possibly just because they're not Soil Association-approved organic) – but most of the labelled organic veg in the supermarket has been shipped half way from Africa if not further afield.
I suspect this is a better-for-self versus better-for-planet question but I'm not sure – since the pesticides etc on the non-organic veg are damaging the environment in countless different ways anyway.
We can't always go to the wholefood/organic shops in the city centre that offer local, organic produce (albeit at a price) and my own organic garden veg are currently just seedlings being eaten by slugs, so what is the better alternative?
Related Categories
dilemmas
Search for other related items