What's greener … centralling heating the whole house or warming one room with a fire?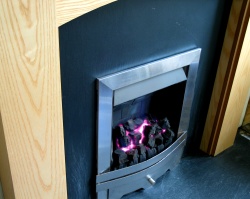 June. The month that starts summer. The month when we should be dusting down our sunglasses and joyeously celebrating the fine weather with picnics on the beach. And yet here I am, in a thick winter jumper and woolly socks, flanking myself with cats to keep me warm. Our house is north-facing so windchill aside, it's generally warmer outside than in but this is getting silly now. JUNE.
In the evenings, even with jumpers and post-dinner warmth, we get rather chilly and start contemplating the options. Usually it suffices for me to just tuck my feet under a blanket and pile on another cat, but sometimes John starts pawing about turning on the fire or the central heating.
We usually stay together in the living room in the evening so it doesn't seem to make sense to heat the whole (small) house with the gas-powered central heating radiators but the central heating is pretty efficient and it heats the room in a fraction of the time we would need the (also gas-powered) fire to achieve the same warmth. We're not looking for a sauna, just something to take the chill off the evenings.
Any thoughts as to which is more energy efficient?
Related Categories
dilemmas
Search for other related items