How can I reduce my addiction to cheap clothes?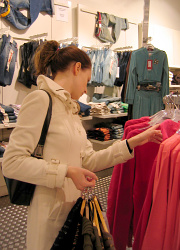 Confession time: I've got an awful cognitive dissonance thing with buying cheap clothes – I know about the horrific conditions in sweatshops, I know how cotton production is incredibly damaging to the environment, I know how the clothes produced in sweatshops are (understandably) far from good quality and liable to fall apart quickly, I know how much energy is wasted transporting them around the world and I know that shop employees, especially in the cheapest pile 'em high, sell 'em cheap shops, are treated poorly and paid badly – and yet…
I think I got into "buy them cheap when you see them" habits as a teenager when I didn't have a lot of money and there wasn't quite as many cheap clothes around as there is now (those quaint days before Primark and £4 supermarket jeans) – I'd always wear black vest tops, for example, so I might as well snap them up when they're in the sale whether I need them at that exact moment or not. That habit stuck even when I started working and had a bit more money because, well, it's a bargain, isn't it? who can refuse a bargain? plus, I'd still wear that black vest top at some point. Once I'd got through the other 30 in my bedroom drawer of course.

Even knowing all those things I know about why I shouldn't buy cheap clothes AND having a wardrobe packed full of previous purchases, I still have the desire to buy things. If I'd just ambling about a town centre, I find it really difficult to walk past a red "SALE!!" sign without at least ducking in to see what's on offer. It's horrible, an addiction. The funny/depressing thing is I don't really like fashion – I don't crush on works-of-art shoes or this season's must-have skirt, I nearly always buy the same dull stuff – I have many, many coloured tshirts/vest tops, at least half a dozen horizontal-striped hoodies and at least ten black cotton shirts.
So I have a problem. I realised this properly a few years ago and I've been working on ways to manage it since then. When I stopped commuting to work every day via the city centre in 2006, my access to shops and those alluring "SALE!!" signs dropped back dramatically and that helped a bit. Every time I visited the mini-high street near my (old) house though, I ended up in the charity shops up there and I felt I had to "make the most" of my now occasional visits to the city…
More recently, I've been internalising some personal rules to make me stop and think before buying: I won't buy something unless it's at least 50% natural fibres (although in practice, I'm actually stricter – going for only stuff that's a minimum of 80%, usually 100% natural fibres) and I *must* try it on before buying it. (I never used to try things on because I couldn't be bothered waiting in the queues at changing rooms and always thought "well, I can just take it back if it doesn't fit" – although I never did take stuff back, charity shops got a lot of brand-new-with-tags items from me…) These rules slow me down and make me think about things while still letting me get that "I got to check the sale rack" satisfaction.
Do you have any similar personal guidelines when it comes to shopping? Since price and quality have become somewhat detached these days, how do you decide what to – and what not – to buy?
Do you have any other advice to help me with my (I suspect not uncommon) problem? I'm worried that if I "just say no" and stop buying clothes cold-turkey that I'll displace my buying urges from clothes onto something else – craft supplies or books for example – so I'm ideally looking for ways to deal with it rather than just plain avoidance of all shopping outlets (particularly since eBay is only ever a click away…)
Related Categories
clothes and fabric
,
reduce this
Search for other related items