How can I repair tears in sheets & bed linen?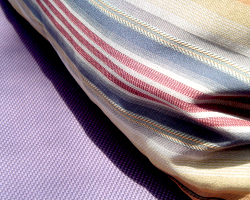 When we moved into our new house last autumn, we got a new bed.
Despite our love of slumber, our last bed was awful – the cheapest double I could find when I needed a bed in a hurry back in 2002. It was small, uncomfortable and had been repaired so many times, I think by the end it was made out entirely of glue and hope, not badly laminated wood.
When we moved here, we decided to do things right – after looking at the options in all the big bed shops and online, we ended up commissioning a local furniture maker to make us a bed frame instead*. He made it out of reclaimed wood (yay recycling!) and to a chunky design of our choosing. When he came to assemble it, he gave us a little tool which we might have to use to tighten some bolts — in twenty years time. It's the best, most solid bed I've ever met and we're very happy with it.
Why am I telling this story in a post about sheets & bed linen? Well, because we decided that after getting the bed frame right, we were going to get the rest of our bed experience spot on too. Like with the bed itself, we decided to buy good quality items that would last us for years and years, instead of cheap things that would fall apart – a key part of "reducing". I spent ages tracking down & more money than I would normally do on bed linen to get top quality 100% cotton duvet covers. And you know what? Both have ripped already.
We think one of them got ripped on our cat Carbon's last day – sadly, I can imagine him using the duvet to claw his way onto the bed, or using his claws to drag himself around the space once he was up there. There is a straight tear in it about four inches long, and some smaller tears & L-shaped tears in other spots too. The other duvet cover? I've no idea how that got ripped. I just found an L-shaped tear in it – about four inches on either side – when I was washing it the other day. Whatever happened though, it needs fixing.
So what is the best way to repair these supposed-to-last-years duvet covers? Will something like iron-on mending tape work? Or would good old-fashioned sewing be better – and if so, any stitch/method recommendations? Or would patching them be a better route in the long run? Any advice on doing that neatly and smoothly?
Any other suggestions?
* In case anyone's interested, it was
Stump Furniture
in Leeds. It wasn't exactly cheap but it was the same price as the one we were looking at in a brand-name bed shop — and that brand-name bed was allegedly half the price it should have been. I doubt that shop one would have been so well made.
(Photo by uvo_design)
Related Categories
clothes and fabric
,
household
,
items
,
repair this
Search for other related items