How can I reuse or recycle After Eight mints boxes and wrappers?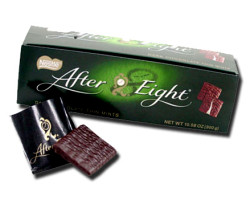 Andy (previously of the cat litter and bulk building material bag questions) has sent us a clever idea regarding those popular after dinner mints:
Here's a suggestion form another Greeny site I visit. After Eight sleeves and the box they comes with, now used as a filing box for seeds.
Great idea – the little, slightly-waxed sleeves are perfect envelopes if you have small quantities of seeds – it's just shame they're black so not easy to write on to label up which seeds are where (then again, I've got a silver pen for writing on black paper knocking around somewhere so that would work).
I imagine the little ridges in the box could also be useful for holding slide collections – if people still have slides in this age of digital cameras and Powerpoint.
Any other suggestions though?
(For those not familiar with the choc'n'mint treat, they're flat, thin chocolates with a mint creme filling. They come in boxes of about 25-30 and each chocolate is individually wrapped in a gusset of black waxy paper, about 4cm (2inches) square with an open top. The cardboard box is rectangular with (removable) ridged padding inside and the chocolate stand upright in the box, held in place by the ridges.)
Related Categories
Christmas
,
household
,
items
,
packaging
Search for other related items