How can I reuse or recycle ham bone and fat?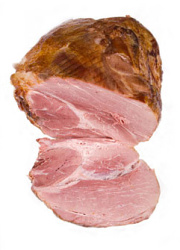 I guess this is more of a straight "reuse" and less of a "recycle" than normal but it's Monday morning and I'm tired, and I can't think of anything else ;)
We had a ham the other day and it was the fattiest piece of meat I think I've ever seen. There were inches of the stuff.
I usually keep the bone and use it to make a stock/soup but the fat would completely overwhelm said stock or soup. There are some suggestions here for rendering it and some recipes to use it in too – anyone done anything like that or got any other suggestions?
Also, what do you use ham bones for? The stock doesn't seem to me that it's as versatile as vegetable stock or chicken stock because it's pretty strongly flavoured in its own right. I've used it, with chunks of the ham, to make ham-centred soups (mmm, hearty ham & bean) and the bone itself in the pot with rice while cooking at add a bit of flavour. What do you do with them?
Related Categories
food
,
items
Search for other related items