How can I reduce my use of make-up sponges etc?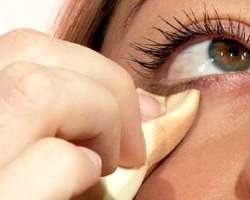 We've had an email from Charley:
I've read your pages about reducing toilet paper and sanitary towels. I'm not sure I want to go that far yet but I do want to find an alternative for makeup sponges like for applying liquid foundation. Do you know if there are any recycled sponges on the market or what else can I use?
I'm hoping we've got some make-up experts in the Recycle This community — I've only worn foundation twice in my entire life so I don't know much about that sort of thing. It's an evasive answer but that is one way to reduce using synthetic sponges/foam pads – and other make-up consumables such as packaging: wear less make-up and less regularly. I realise it's not an answer for everyone but it is something to consider. I think I used to wear make-up out of habit but once I got over the shock of going cosmetically nude, I quickly normalised to not wearing make-up.
Now to Charley's actual question: with Google, I can find sponge scourers make from recycled but not finer make-up sponges. Anyone got better Google skills or with more cosmetics knowledge, know where/what to look for? You can get natural sponges for applying make-up (which could be composted at the end of the life) but they usually have their own environmental impact. Anyone got any advice on those?
Alternatives: again, possibly not for everyone but switch to a powder foundation that can be applied with a brush – a good quality brush washed regularly will last a long, long time. (On a similar point, I can't believe I stuck with sponge eye shadow applicators for so long — trained into them by the "free" ones with some shadows I guess — when a shaped brush does a far better job and lasts a lot longer too.)
I know a lot of people make their own make-up removal pads to use instead of cotton wool but has anyone made their own reusable application pads?

Any other suggestions or ideas for Charley to try?
Related Categories
bathroom
,
reduce this
Search for other related items