How can I reuse or recycle a LOT of pinback buttons/badges?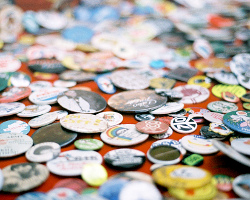 (Ooops, sorry for the absence – I was busy then ill because I'd been busy and also ill because I ate some tasted-fine-but-actually-bad out of date sausages. Yes.)
Right then, Nicole has been in touch asking about "pinback buttons":
I have thousands of pinback buttons from a failed work campaign. Would love to make them over into something pretty and/or useful. Any suggestions?
I think "pinback buttons" are what we in Britain usually just call "badges" – which we have covered before. There are some great reuses on there (I love fabric covered badges) but I'm not sure if that's an appropriate suggestion for Nicole – unless she wants to make thousands of them. The decorative pinboard pins idea might be better – since you'd use a good number on a pinboard at a time – unless the campaign failed so badly that you don't want to be reminded of it ;)
Any more ideas for using up a lot of pinback buttons/badges?
(Photo by Ellen Munro)
Related Categories
household
,
items
,
office
Search for other related items