How can I reuse or recycle name tags / name badges?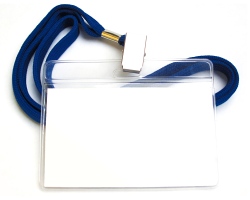 Leigh of the scarves had another question – what to do with "name tags/nametag holders":
you get them everywhere, but I have nothing to do with them!
I don't know whether Leigh means conference name labels – either the pockets for use on lanyards (which we covered last year) or ones with safety pins on the back – or proper, personalised name tags for people working in public-facing positions and the like — so let's do both.
When I used to organise conferences and events, I collected any badges leftover at the end of the day and used the pockets again for the next event – I suspect I wasn't alone in doing that, especially in cash-strapped academia. So that's a reduce idea: leave your conference name badge on the reception table at the end of the day and it'll probably get reused again. The same thing might work for solid name tags if they're first name only and you've got a reasonably common name.
But what about reuses? Any ideas?
Related Categories
items
,
office
,
paper & stationery
Search for other related items