How can I reuse or recycle lanyards?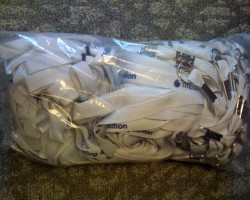 We've had an email from Nicole asking what she can do with a big bag of lanyards from a conference that has already taken place.
I actually thought about them (but forgot again) a few weeks ago because we've got a few floating around from a conference we went to last year (shoutout to LUGRadio Live) – they're great for hanging your nametag around your neck while you're there but afterwards…
Actually one of our friends uses an old one to hang his keys around his neck (his trouser pockets are always holey, disturbingly holey) and another friend uses one on a USB key so it doesn't get lost as easily – but that's only a few uses, possibly only good for my disorganised friends.
Any other suggestions for Nicole?
(In case you're not familiar with them, lanyards are usually just a loop for webbing, like a wide shoe lace, with a metal clip or ring at one end. They're usually about 50cm in length.)
Related Categories
items
,
office
Search for other related items