How can I reuse or recycle a solid curtain pelmet?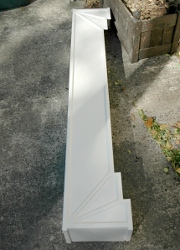 Sorry that there have been fewer posts than normal recently – I've been taking full advantage of both of the long weekends to have time in the garden and not on my computer. Normal programming should return from now on!
Anyway, at least I've been busy reusing/recycling in our garden. Last week, I turned our old bathroom cupboard doors into raised bed for foot square gardening then on Monday, my not-in-law's neighbours were throwing away a solid curtain pelmet and I made that into a herb trough/window box style planter. And both are now filled with produced-here compost – so that's more recycling ;)
Back to the pelmet though, while I was doing the minimal work required for its transformation, I was thinking what else it could be used for. It was still in pretty decent condition so a sand down and repaint could easily continue being used for its original purpose – sitting on top of the curtains to hide the rail. It could be given away via Freecycle/Freegle if the original owners didn't want it any more. (Pelmets are seen as a bit fussy and old fashioned by some but they are supposed to help keep rooms warmer by cutting down convection currents around the window.)
When I first saw the pelmet, I thought it was a mantlepiece – it could easily be turned into a decorative fire surround (for a small gas/electric fireplace or not used real one) by adding legs, which could be made quite easily from cheap planking. Or simply used as a floating shelf.
As for actual recycling, it was mostly wood — but wood that had been frequently painted over the years so wouldn't be suitable for burning. If it had been less sturdy, I'd probably still have taken it to just use for the lengths of lumber – I'm all about scrap wood at the moment.
Any other ideas? How would you reuse it?
Related Categories
household
,
items
Search for other related items