How can I reuse or recycle an electric kettle?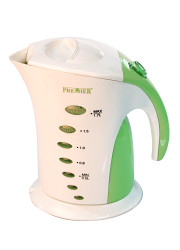 We've had an email from Simon:
We've got two old electric kettles in our garage, one works but is very grimy, the other doesn't work, not sure why. Can we do anything with them?
Electric kettles are covered under the WEEE Directive so in theory, you should be able to send them back to their manufacturer for recycling. In practise though, this isn't always easy to do – but most, if not all, councils in the UK have some provision for small appliance recycling at household waste centres. Some even do periodic doorstep collection of electrical items so do check on your local situation.
It might be worth seeing if the dirty working one can be rescued though – it might just need some elbow grease and a good de-scaling. If you don't have a use for it, someone on your local Freecycle/Freegle group might be able to use it either for general kettle use (if they're happy with how it cleans up) or for non-food purposes.
Fun/pretty old kettles – or vintage-style new ones – might also have some appeal as a quirky planter.
Any other reuses or better ways to recycle them?
Related Categories
household
,
items
,
kitchen
,
technology
Search for other related items