How can I reuse or recycle waterproof clothing?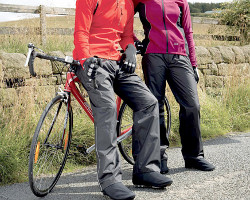 The wonderful Alice in Blogland sent me an email last week:
Thought of another recycle that I could use some help with!

I've taken some waterproof trousers, jackets and cycling gear from someone who didn't want to just dump them in landfill. I thought there would be
loads of things I could make with them – my ideas so far are a pair of rainlegs, a pair of gaiters made from the bottom of some waterproof trousers, a rucksack cover like this, a waterproof bike saddle cover and maybe a waterproof hat.

Can anyone come up with any more ideas? And does anyone know how I can seal the seams for things which need to be really watertight?
I think we've talked about the watertight seam question before – but if anyone has any new suggestions, please do feel free to add them.
As for things to make out of them, if I still used my bike, I'd probably want a waterproof hat/helmet cover – with a peak at the front to protect my glasses a bit. I also like the idea of gaiters as my trousers always puddle-soak.
As it is though, I rarely have to leave the house in the rain so if the waterproofs were made from a neoprene type material, I'd probably use some of it, along with a bit of expanded polystyrene foam, to make a bath pillow – much more my speed now ;)
Other ideas?
Related Categories
clothes and fabric
,
hobbies
,
items
,
sports
Search for other related items