How can I repair a pair of waterproof trousers?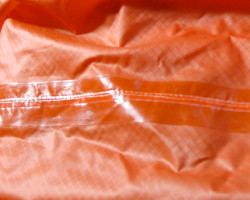 Because she's a keen fixer of things, I told Alice in Blogland about our new "Repair This" feature and she replied that she had something in need of mending, but didn't know how to go about it:
It's a pair of waterproof trousers which have taped seams. Basically I bent over in them and the seam split right down the middle, leaving the fabric intact but tearing the seam tape. Can I buy waterproofing seam tape from somewhere? What's it called? And do I need to sew it in some sort of special way so that it ends up waterproof – if I do it wrong then I guess all my needle holes will let in water!
Any ideas?
Related Categories
clothes and fabric
,
hobbies
,
items
,
repair this
Search for other related items