How can I reuse or recycle a crooked bike wheel?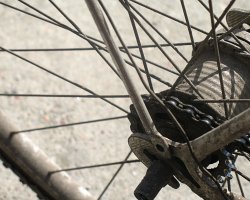 We've had an email from James:
I had a bit of a ding on my bike the other day, nothing serious but the front wheel ended up a bit crooked. I'm going to change it at the weekend but don't know what to do with the slightly bent one. Ideas?
You could see if a bike recycling group (like re-cycle) could fix it – or if they work with youth groups, use it as a teaching aid.
Aside from that, train ivy/honeysuckle or something up it in the garden to make a themed feature?
Any other ideas?
(Photo by przybysz)
Related Categories
hobbies
,
items
,
sports
Search for other related items