How can I reuse or recycle window envelopes?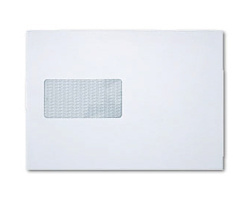 We've talked about envelopes in general and special types of envelopes – liked padded ones and plastic mailing bags – but I wondered if there are any reuses that take advantage of the see-through bit of window envelopes.
Different places have different policies on whether or not they can be including in general paper recycling bins – some complain about the window, others about the window & glue. The only snail mail I send is either parcels or things that arrived with a pre-addressed/pre-paid envelope so I can't really reuse them as envelopes. Instead, the blank parts from the backs of envelopes goes into my desk scrap paper pad. If it's been printed on, it goes into the kindling pile for our stove – but either way, the window comes out.
So any reusing/recycling ideas for intact window envelopes, that take advantage of the window? Or any suggestions for reusing the window by itself?
(Btw, I've noticed that some window envelopes are now made from glassine – a largely transparent type of paper. Glassine is not accepted in all paper recycling collection bin and it takes its sweet sweet time to compost because it is water-resistant – best to leave it out of your bin if you want a quick turnover.)
Related Categories
household
,
items
,
office
,
paper & stationery
Search for other related items