How can I reuse or recycle old padded envelopes?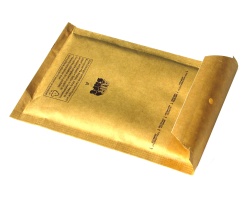 I've just started making my own jewellery and have been ordering various bits and pieces, earring findings and whatnot, over the internet – resulting in a slew of padded envelopes plopping onto our doormat.
We've already addressed normal envelopes and bubble wrap, but what about the jiffy envelopes that combine the two?
I'll keep some around to reuse for their intended purpose – but has anyone got any ingenious ideas for using up the rest, taking full advantage of their padding and envelope-ness?
(Original photo by lusi)
Related Categories
household
,
items
,
office
,
packaging
Search for other related items