How can I reuse or recycle … printer paper?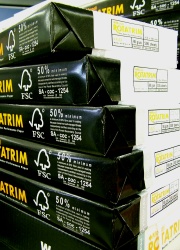 This is another of those that I can't believe we haven't thought about yet: printer/photocopier paper.
It can, obviously, be recycled: as far as I know, most doorstep recycling schemes offer paper recycling and in all the places I've worked, there has been a green bin in the office for at least recycling white paper products, if not all different types like brown envelopes and newspaper.
However, I know not all offices are so green-focused without prompting – does anyone have any good strategies for getting employers to starting caring about this type of thing? Or know of any companies that offer recycling services to business?
And what about ideas for reuse? If something had only had printing on one side, I would either use the other side for printing drafts or make the blank side into scrap notepads (held together at the top with a bulldog clip). But what about other suggestions for reuses, including for when both sides have been printed on? And what confidential matter that can't spend the next three months on the back of a notepad?
(Oh, and we got mentioned in the Guardian yesterday – if you're here after reading that mini-article, hello! And if you want to know how to recycle said copy of the Guardian, we've plenty of ideas for recycling and reusing old newspapers.)
Related Categories
household
,
items
,
office
,
paper & stationery
Search for other related items