How can I reuse or recycle tea towels?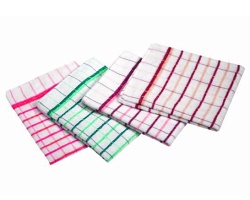 We've had an email from Louise W:
Our church hall has accrued dozens and dozens of tea towels over the years, I don't know where they come from. We usually tear the tatty ones in half and use them for cleaning rags but I was wondering if you had any ideas for other things we could do with them. Some of us are good at sewing so could make things with them for our jumble sale.
If it's a straight-up surplus of good condition towels, I'm sure there would be local shelters/re-homing community groups who would love a bulk donation – either for use in their own kitchens or to be give out to those in need of even though most basic household supplies.
If they're too tatty for donating, the decent parts of the fabric can be upcycled in a number of ways – I've seen aprons made from cute dish towels, cafe-style curtains/blinds for kitchens, baby bibs (especially if the towels are super soft from frequent washing) or quilt-style hot pad tablemats using a few different towels.
Finally, if they're far too tatty for any of that, they do make great dishclothes/cleaning rags and can be shredded to be stuffing for small toys or the like.
Any other recycling ideas? Practical as well as creative crafty ones?
Related Categories
clothes and fabric
,
household
,
items
,
kitchen
Search for other related items